Today's blog post is about some of my favorite socks included in this year's GAL. Still don't know what I'm talking about? Check yesterday's post, I explained it all there 🙂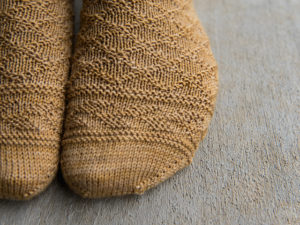 The first pattern that stopped me in my tracks while I looked through all things for feet in the sale bundle was Golden Ticket by Lisa K. Ross. Aren't they stylish and elegant? I think I need these in my life <3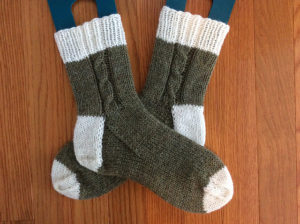 Lazy Weekend  Socks by Brenda Castiel are perfectly named – they not only look perfect for a lazy weekend, they could probably also be made in a lazy weekend. Worsted weight makes socks go so fast!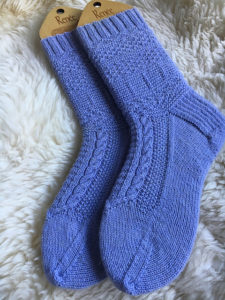 Visser Twist by Renée Kies uses mainly knit and purl stitches to create these beautiful, intricate looking socks. Isn't it awesome what just a little knit and purl (and the cute cable there) can do?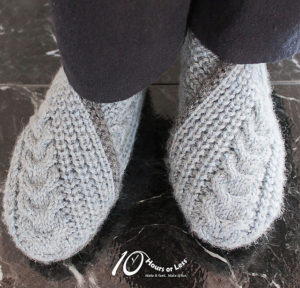 How about some slippers now to keep your feet extra cozy this winter? I love Fisherman's Fabric by 10 hours or less. The pattern comes in three sizes, so your whole family can be warm in style!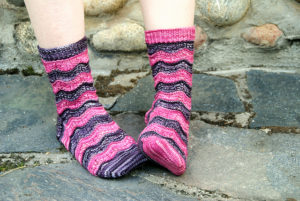 If you read yesterday's blog post, you won't be surprised that I couldn't walk by something in gray and pink wavey stripes like Sorelle by Susanna Winter. Aren't they beautiful?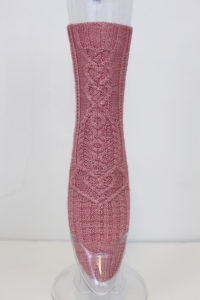 Do you remember this song from the Nineties? Love me, love me, say that you love me. Fool me, fool me, go on and fool me… I was about 18, I think and madly but unlucky in love with T. from my school. Lovefool from The Cardigans was on repeat on my stereo. Funny how just a gorgeous sock named Lovefool by knottygnome crafts can bring back those memories.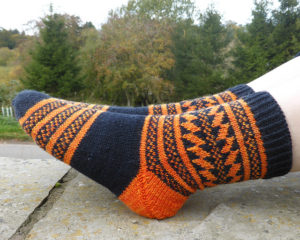 From being unlucky in love – I'm so glad these times are over – back to being happy. Black combined with striking colors like red or orange makes me really happy for some reason, so Happy Hoops by Helen Gipson couldn't be more aptly named for me!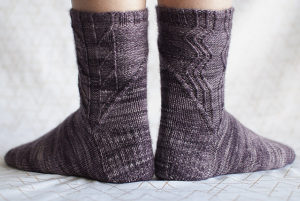 This is Bend and Fold by Clare Devine and I can see them right before my inner eye in some gorgeous light blue making my feet happy <3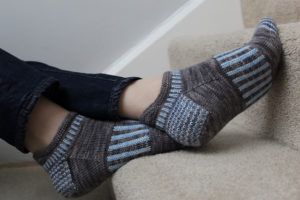 My Ravelry stash says I have 288 different fingering yarns, but it doesn't know yet about the yarn I got for my birthday last week… The VAST majority of this is crazy variegated yarn. I love it, I can't walk past it, but it's so hard to find nice patterns for it. So I'm always on the lookout for non-vanilla things that work with these yarns, and Palestra by Sarah Jordan jumped right into my cart.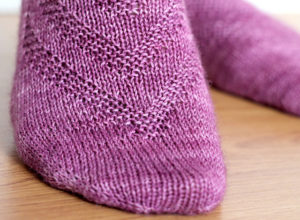 I saw Braes and Glens by Liz Corke on Instagram the other day and was immediately in love. (If you are beginning to see a developing theme here – yes, I love chevron stripes as well!)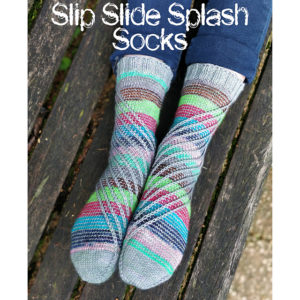 Slip Slide Splash Socks by Megan Williams have been inspired by water slides and to me they really scream "FUN" – don't you think so, too?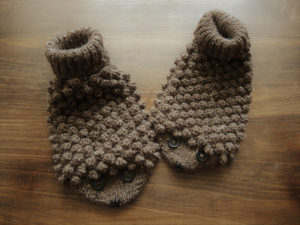 Cuteness overload – Hedgehog Slippers by Alexandria Wenninger. The designer promises they are much cozier than actual hedgehogs, but I was sold by the cute picture already. I need hedgehog slippers in my life.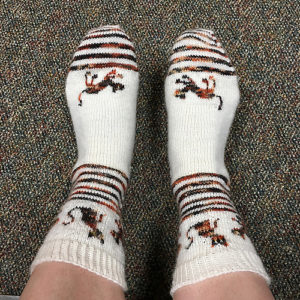 Last, but certainly not least – Glaring Socks by Settlers Grove Designs. CATS! Stripes! variegated yarn! Have I mentioned CATS!?!
That's all for now, my poor Paypal account needs some rest! See you tomorrow!