Annina from the Artesanitarium, Mary E Rose Designs and I have cooked up another mystery sock for you this advent! If you want to join, sign up for our Newsletter here: https://mailchi.mp/7d3eacb64451/apgals2021kal
Annina from the Artesanitarium, Mary E Rose Designs und ich haben uns wieder eine Mysterysocke für Dich ausgedacht für diesen Advent! Wenn Du mitmachen möchtest, abonniere hier unseren Newsletter: https://mailchi.mp/7d3eacb64451/apgals2021kal
Annina Artesanitarium Designsilta, Mary E Rose Designs ja minä olemme suunnitelleet teille uuden mysteerisukan tätäkin joulunodotusta jouduttamaan. Jos haluat mukaan, tilaa uutiskirjeemme täältä: https://mailchi.mp/7d3eacb64451/apgals2021kal
Here is a photo tutorial for Clue 1 to help you get started!
Hier ist ein Fototutorial für Clue 1, um Dir den Einstieg zu erleichtern!
Tässä kuvallinen ohje avuksi ensimmäisen vihjeen neulomiseen.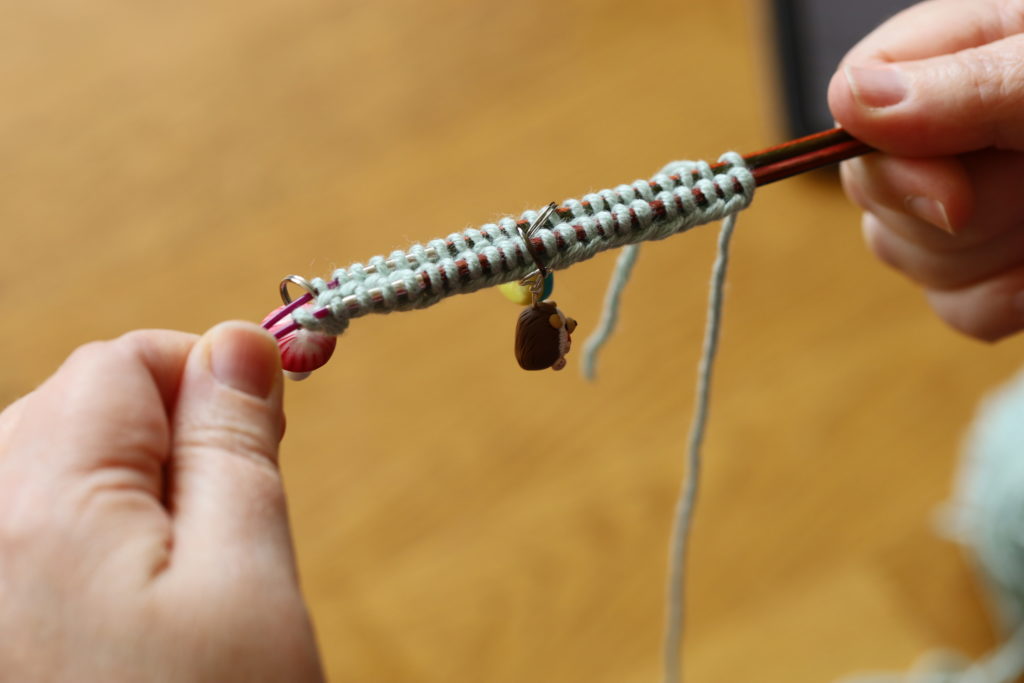 Cast on a multiple of 11 stitches (110 stitches for our sock); if desired, place a marker every 11 sts. Join in the rnd, being careful not to twist the stitches.
Schlage ein Vielfaches von 11 M an (110 M für unsere Socke); wenn gewünscht, platziere alle 11 M einen Maschenmarkierer.
Schliesse zur Runde und achte darauf, dass die M nicht verdreht sind.
Luo 11:lla jaollinen määrä silmukoita puikoille (110 s tälle sukalle); halutessasi aseta silmukkamerkki joka 11. silmukan jälkeen.
Yhdistä neuloaksesi suljettuna neuleena varoen silmukoiden kierymistä.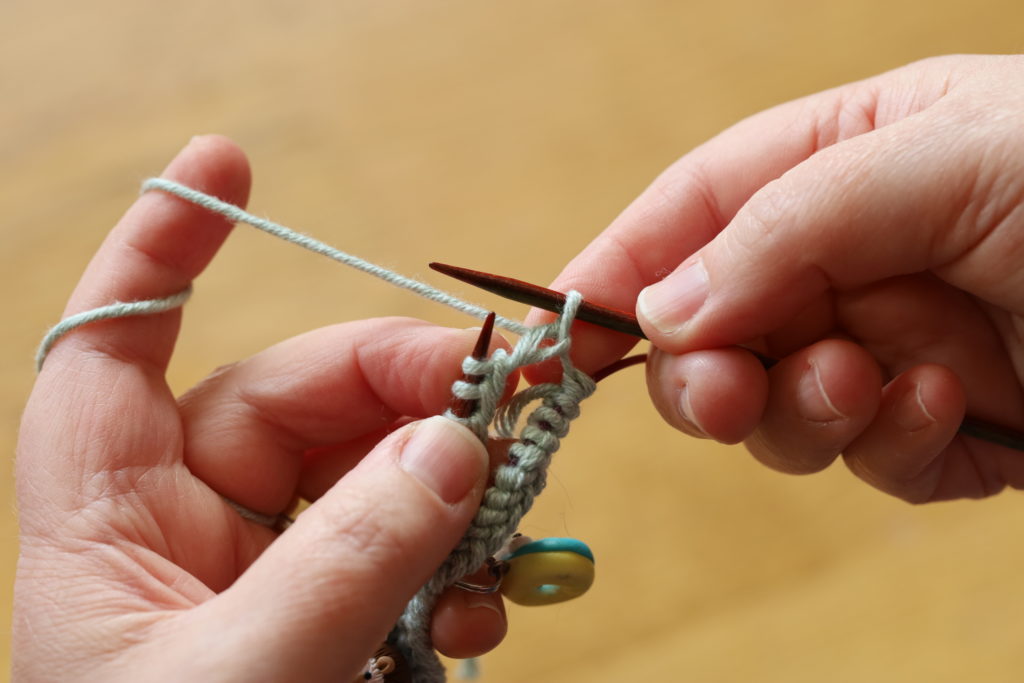 Knit the first stitch…
Strick die erste M rechts…
Neulo ensimmäinen silmukka…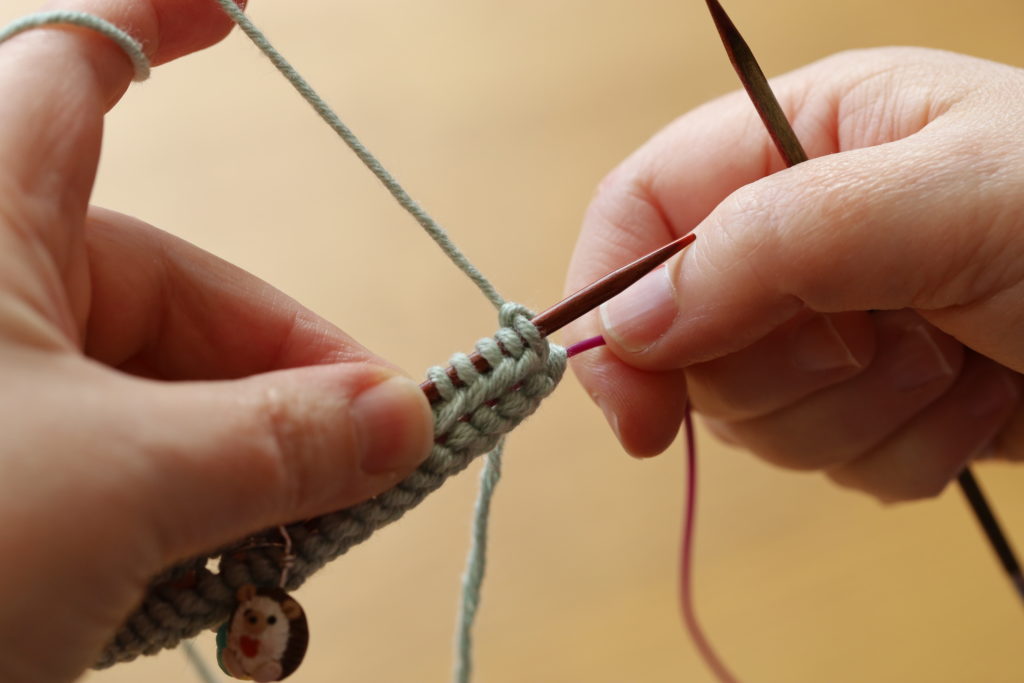 Then place it back on the left-hand needle.
Dann hebe sie zurück auf die linke Nadel.
Siirrä se takaisin vasemman käden puikolle.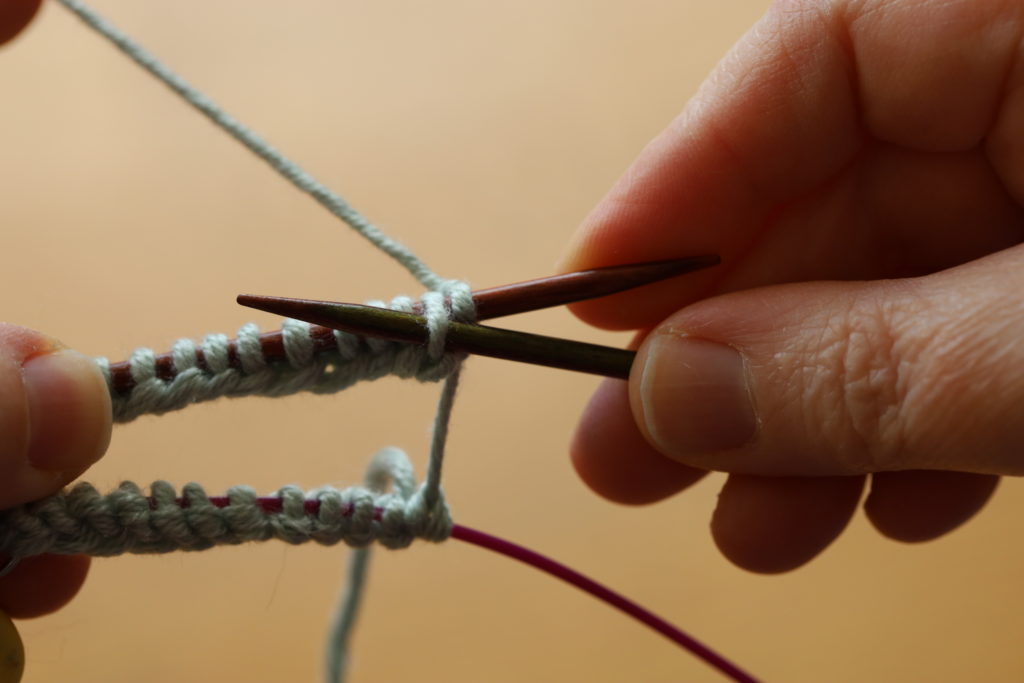 Insert the right-hand needle into the 2nd stitch on the left-hand needle…
In die 2. M auf der linken Nadel einstechen…
Laita oikean käden puikko vasemman käden puikon toiseen silmukkaan…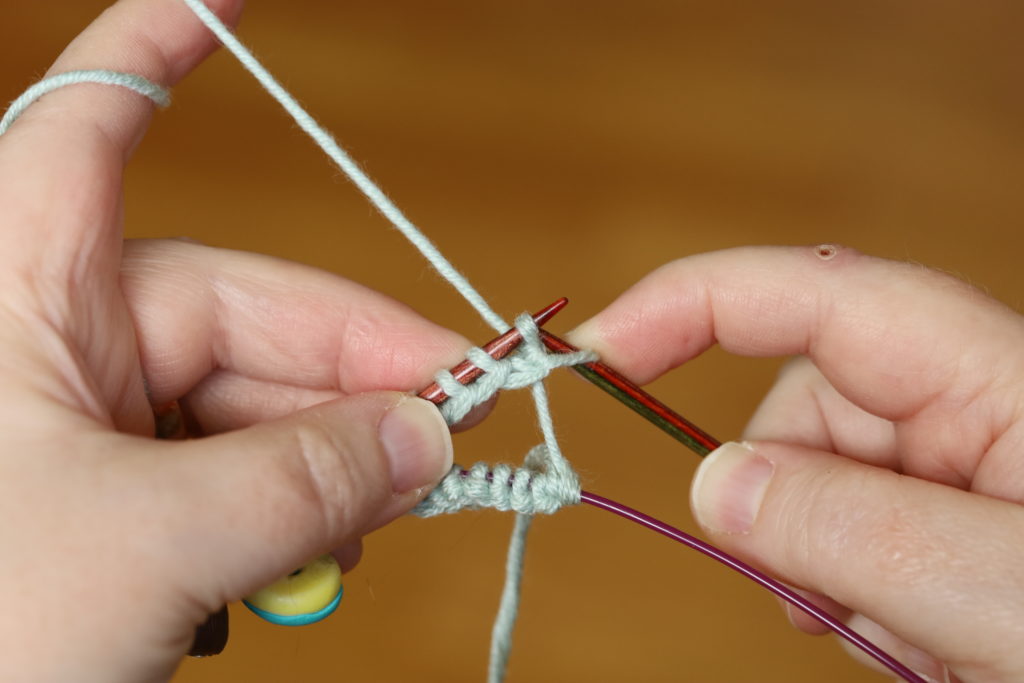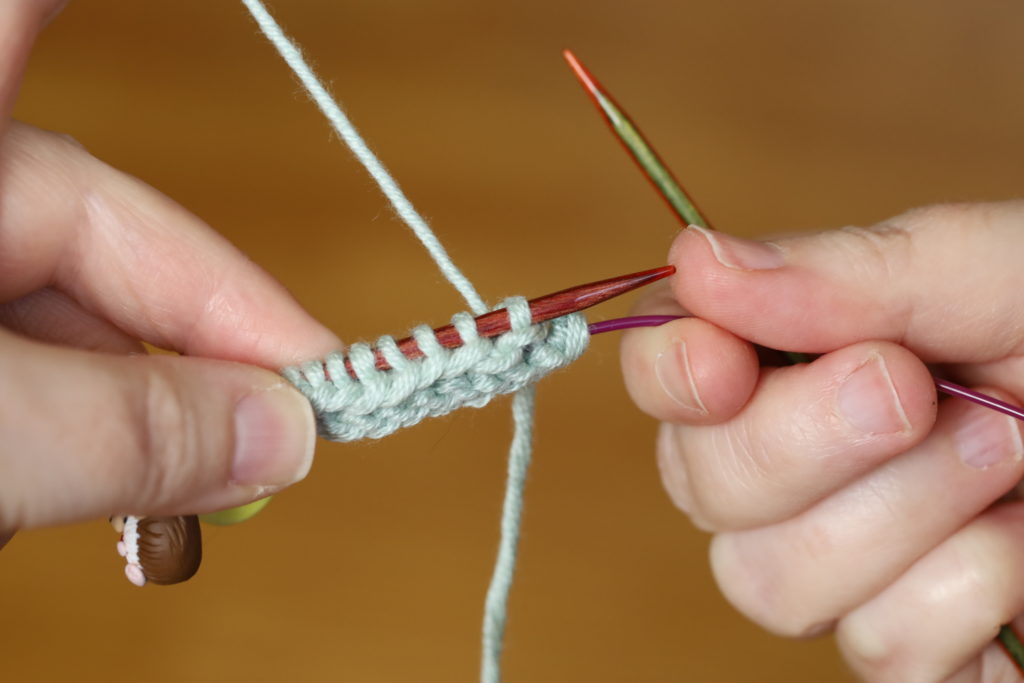 … and pull it over the first stitch (like a bind-off on the left-hand needle)
… und sie über die erste M ziehen (wie Abketten auf der linken Nadel)
…ja nosta se ensimmäisen silmukan yli (kuin silmukoita pääteltäessä)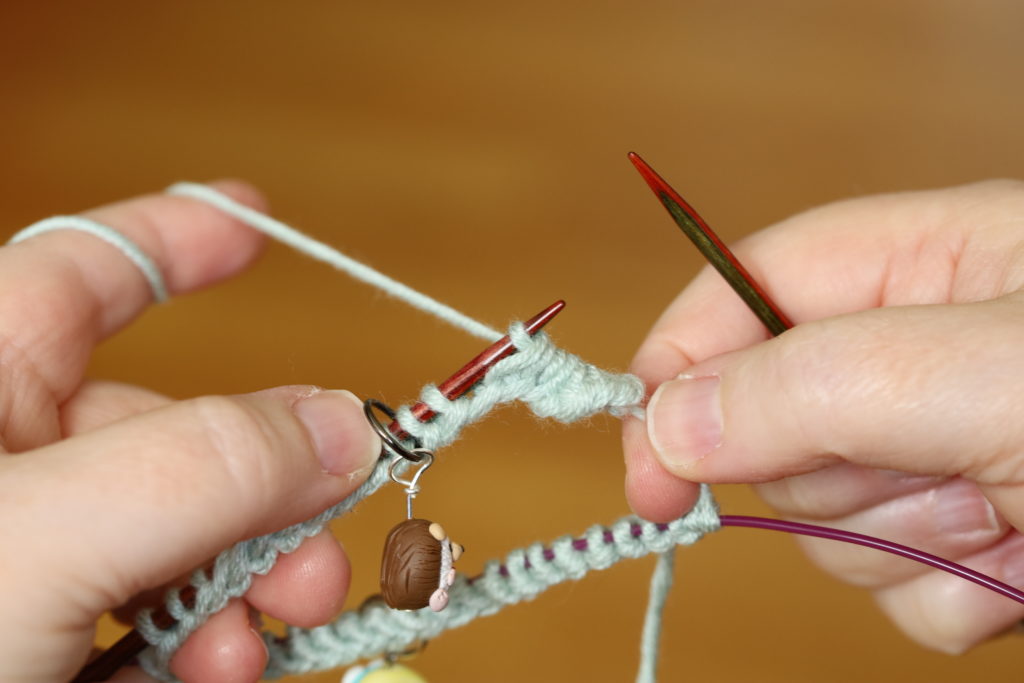 Repeat this 7 times more; there are 3 stitches left on the left-hand needle before the marker.
Wiederhole das noch 7mal; es sind noch 3 M auf der linken Nadel bis zum nächsten MM.
Toista tämä vielä 7 kertaa. 3 silmukkaa jäljellä vasemman käden puikolla ennen seuraavaa silmukkamerkkiä.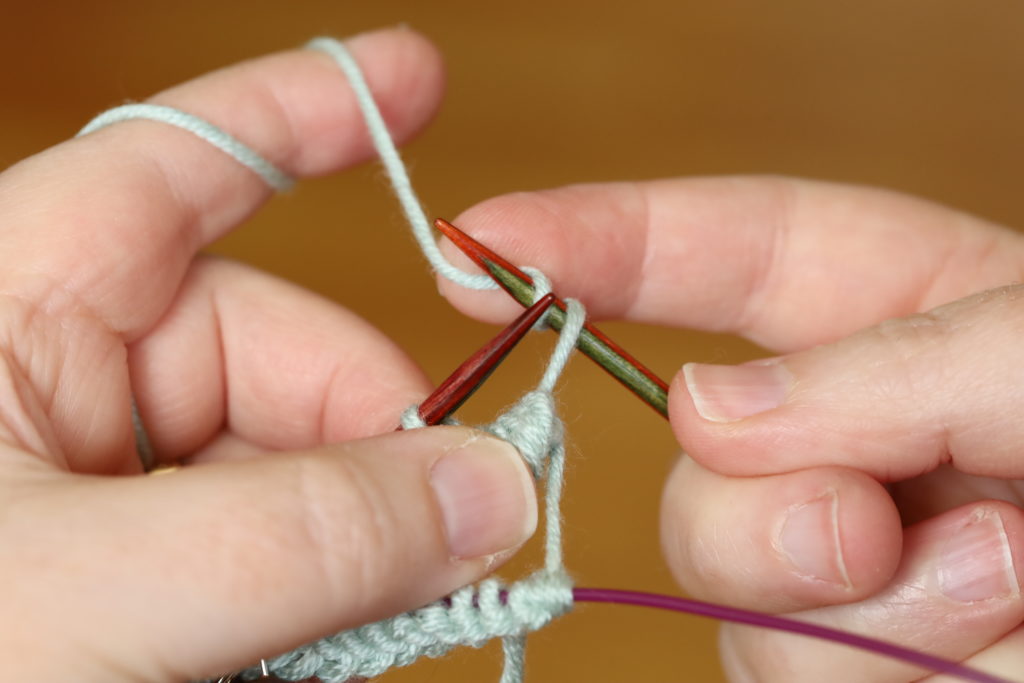 Yarn over twice…
Mach 2 Umschläge…
Kierrä lanka puikolle kahdesti…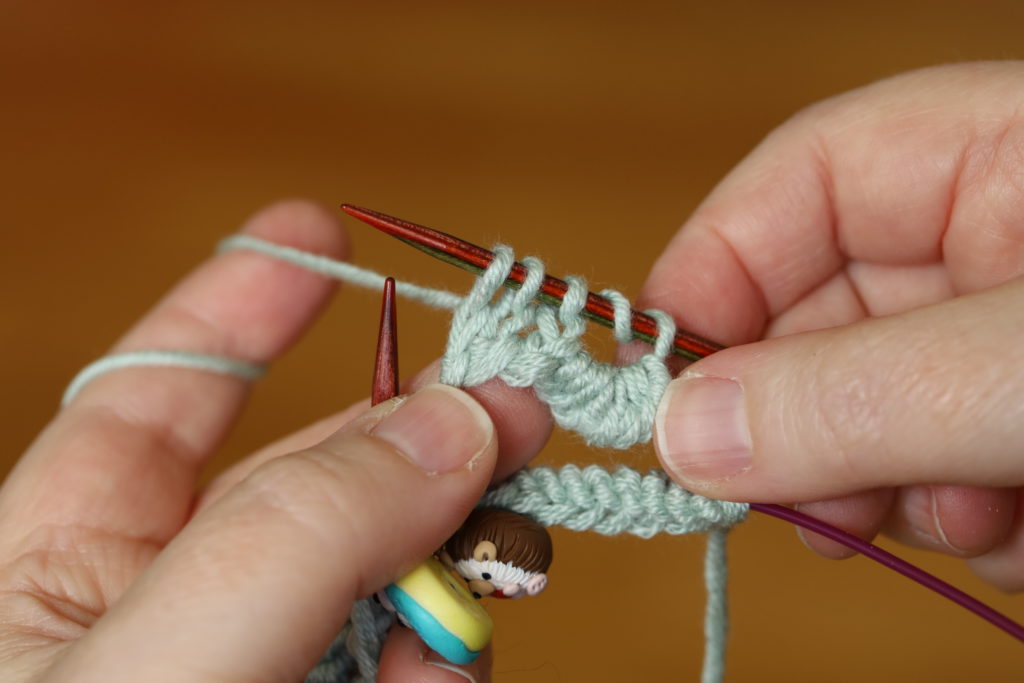 Then knit the three stitches on the left-hand needle.
Dann strick die 3 M auf der linken Nadel rechts.
Neulo jäljellä olevat 3 silmukkaa oikein.