12 hours ago, the biggest craft party of the year has started! I'm proud to be a participating designer again in this year's Indie Design Gift-a-long.
Never heard of it? Imagine 349 designers, thousands of knitters and crocheters, chatter, fun, games, prizes, an Instagram challenge, a huge sale to start it all and of course all the KALs and CALs you could ever wish for. Get all your presents done (for you or for loved ones) and have more fun than you could imagine.
Sounds good? You can check it all out and join here: https://www.ravelry.com/groups/indie-design-gift-a-long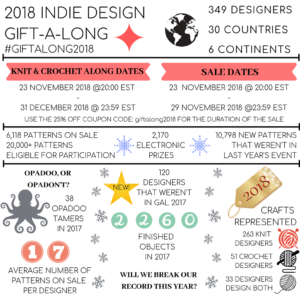 The wondeful Loraine (lor-artemis) and her team have worked hard to make searchable bundles so you can find your perfect patterns easier.
The bundle with all patterns included in the sale is already online: https://www.ravelry.com/bundles/indie-design-gift-a-long-2018-sale-bundle, but you can join the KALs and CALs with any pattern by a participating designer, and all paid patterns by all participating desiginers are eligible for prizes.
I've spent the morning going through the shawls and wraps in the sale bundle and want to present my favorites for you in random order – everything else would be too difficult!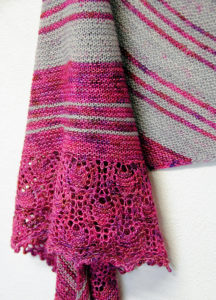 Zusammen bei Susanna Winter combines so many things I love – grey and pink and stripes and lace <3
I'm always Dreaming of Spring, so this gorgeous shawl by Leela Frankcombe speakts right to my heart.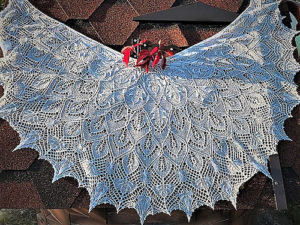 Autumn Rhapsody by Alla Borisova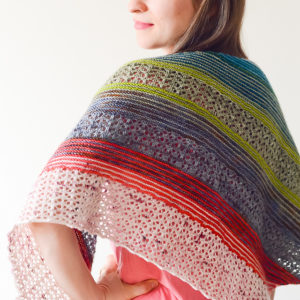 Pieces of my Heart by Gabrielle Vézina is a beautiful way to use up all the leftovers from other projects that are just too pretty to toss them.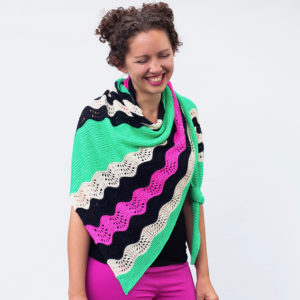 If there is something I love more than stripes, it must be wavey stripes. Or lacey stripes. Or both. Either way, Escalation by Stephanie Lotven is right up my alley!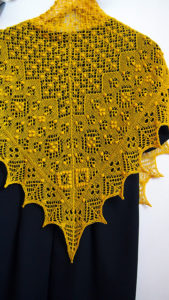 This is Kullane by Meeli Vent – I hardly have any words for how beautiful this is!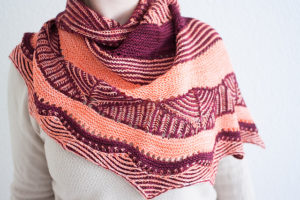 Brioche knitting has been all the rage lately, and I think it's no wonder when you can create stunning pieces like Brioche for Teatime by Tisserin Coquet <3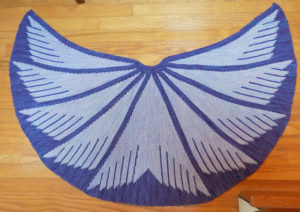 Do you need a pattern for an angel in your life? Or do you just want a gorgeous shawl? Knitted in DK so you have chances of finishing it this year? Look no further, I have l'Affichage Demoiselle by Peggy Jean Kaylor for you!
Wow, bringing my list of beautiful shawls down to 9 seems like quite an achievement! But presenting 1378 shawls would have made for quite a long blogpost… Go check them out and let me know in the comments what your favorites are, I'd love to hear!
See you tomorrow with a list of socks!