If you ask me to describe how my May has been, these would be the words that come to my mind. I've had a crazy amount of work and yet not much to show you, we'll all have to be patient for quite some time before I can reveal what I have been working on.
On May 8th my grandmother died. Although I'm glad she doesn't have to suffer anymore, I miss her and I can't quite believe that I'll never hear her say "Hello, my little one" again. This also added three days of traveling to Germany and back to the workload.
May has been rainy and gray here most of the time, today is one of the first days where we have sunshine and it's warm. Fittingly enough, it's almost the meteorological beginning of the summer and I'm about to hit publish on my newest pattern release – Flowers on a Sunny Day Socks.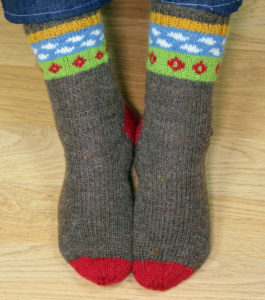 If you have always wanted to try stranded knitting but didn't find the courage, give Flowers on a Sunny Day Socks a try! Just a few rounds of stranded knitting in the beginning to let you dip your toes and give a pair of vanilla socks the eye-catching extra with sun, fair weather clouds and flowers on a meadow. Only super small amounts of the contrasting colors are needed, so they are perfect for using up some stash. I've used one of my favorite sock yarns, Garnstudio Drops Fabel.
As always, I have a special release discount on Ravelry! With the coupon code Flowers, the pattern is free for 5 lucky people, 75 % off for 7, 50 % off for 10 and then 25 % off for everyone until June 4th, end of day 🙂 Good luck!