I know that it's just 3 days till Halloween, but that isn't celebrated much where I live. Neither do we celebrate Thanksgiving. So, for me, the next big holiday is Christmas. And that's less than two months away! Today is the first day that is much colder – Indian summer is definitely over. I'm sitting here writing to you wearing two pairs of socks and a shirt beneath my sweater and still I'm contemplating getting a blanket – my office is terribly cold in winter and terribly hot in summer.
Does all of this make you panic a little? How far are you with your gift knitting? Do not worry, I got you covered – or rather, your phones. Today I have published the pattern for Waving Tree Cellphone Case. These babies take less than two hours to make and of course they can be used for other stuff as well. One of my testers made a cosy for soap – isn't that cute?
They also use just 40 yds or 35 m of yarn – perfect for scraps you may have around!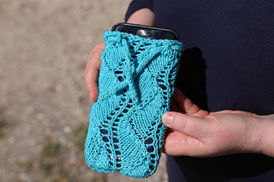 The pattern is 25 % off with the coupon code WavingTree until November 3rd, end of day!
If you are afraid of charts, you can get the whole ebook that will include 5 patterns and a complete guide teaching you how to read charts instead and learn a super useful new skill.
See you next week!