Let's talk about all the options included in the Nightowl Sock pattern today! What do you get when you buy the pattern?
Lass uns heute über die Optionen reden, die in der Anleitung für die Nightowl Socken enthalten sind! Was bekommst Du, wenn Du die Anleitung kaufst?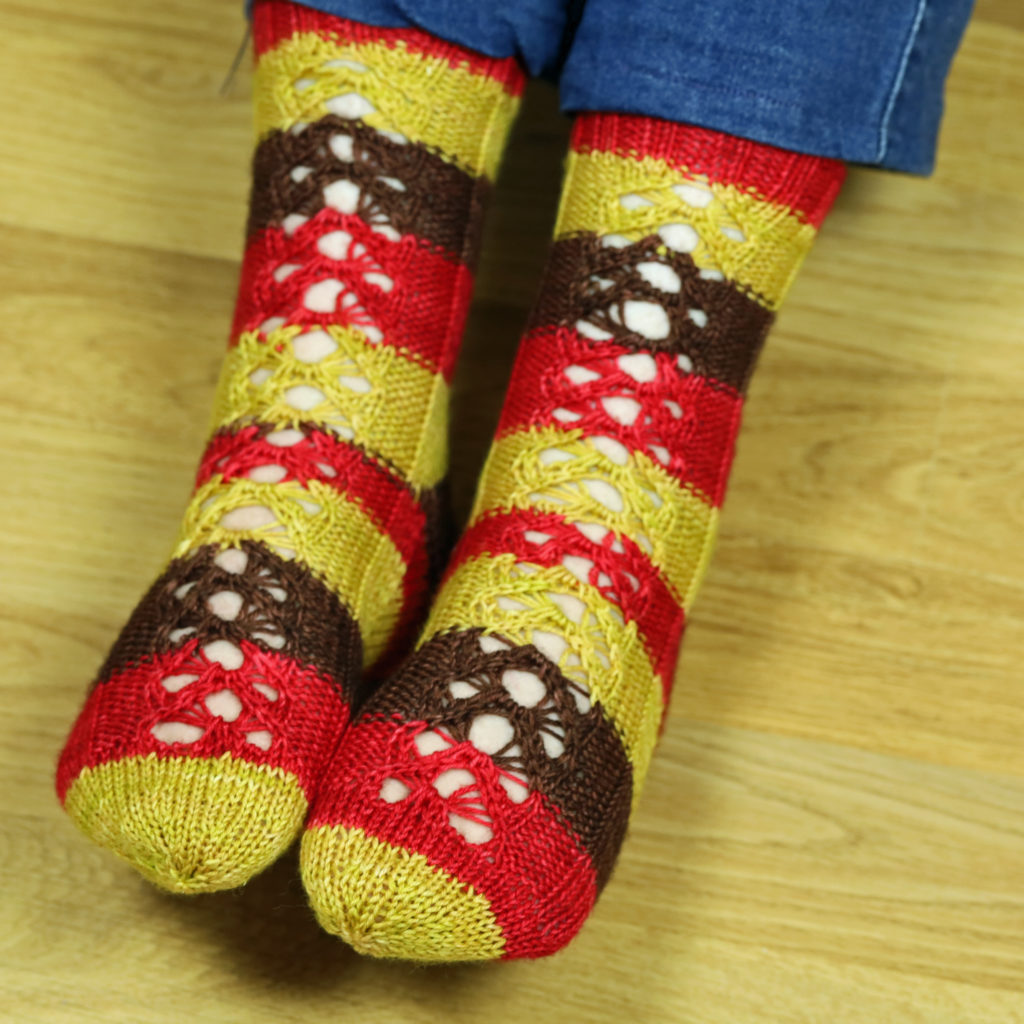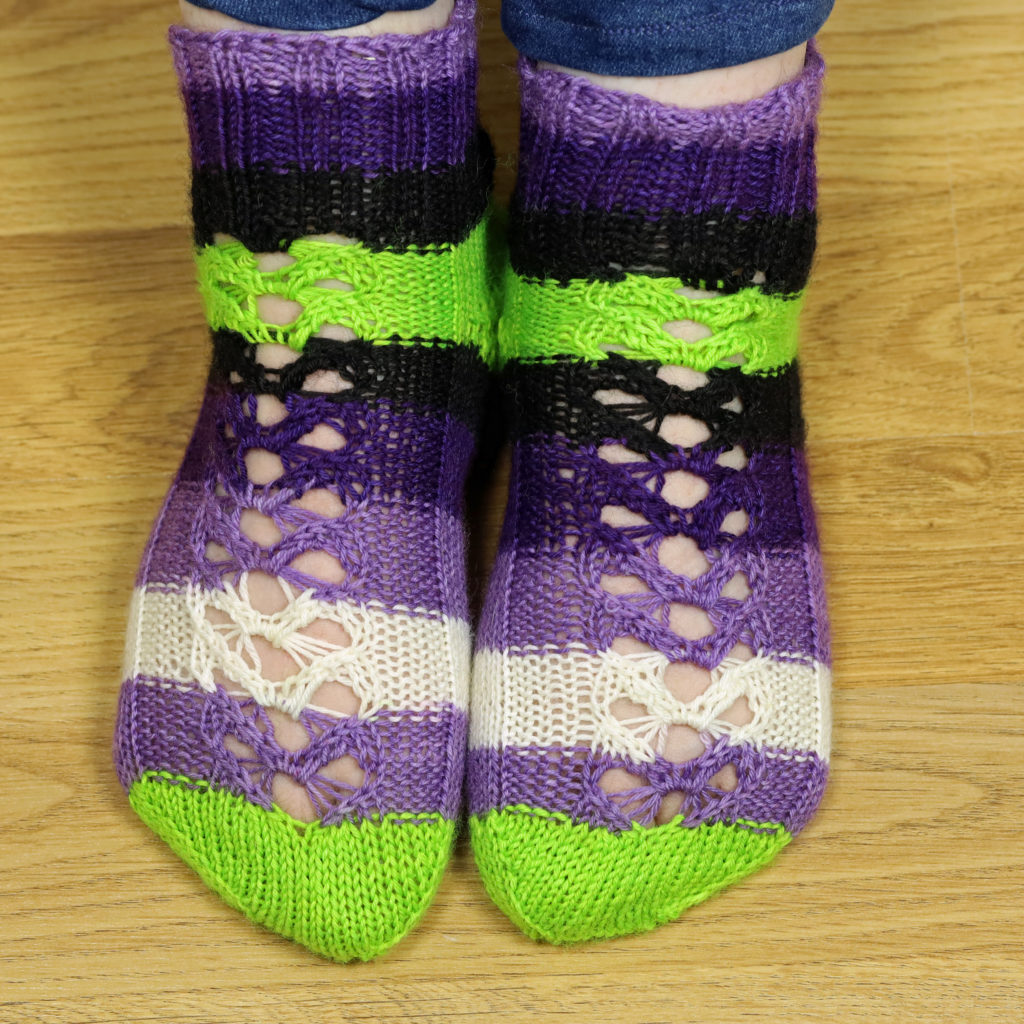 First, you get a toe up and a cuff down version. We all have our preferences when it comes to knitting and I want you to enjoy the knitting to the fullest and get a sock that perfectly fits you. Personally, I prefer cuff down because I know exactly when I need to start the toe, while with toe up I often have a hard time to find the perfect spot for the heel. But so many knitters feel the opposite and love toe up socks for perfect fit – that's why I'm giving you both so you can choose.
Zum einen bekommst Du eine Toe Up und eine Cuff Down Version von der Anleitung – Du kannst von der Spitze rauf zum Bündchen oder vom Bündchen runter zur Spitze stricken. Wir haben alle unsere Vorlieben beim Stricken und ich möchte, dass Du es voll und ganz geniessen kannst und Socken bekommst, die Dir perfekt passen. Persönlich mag ich Cuff Down am liebsten, weil ich genau weiss, wann ich mit der Spitze anfangen muss, während ich es bei Toe Up schwieriger finde, den perfekten Moment für die Ferse zu treffen. Aber so viele Strickerinnen empfinden genau gegenteilig und lieben Toe Up Socken, weil sie Ihnen perfekt passen. Deshalb bekommst Du beides, damit Du auswählen kannst.
For the same reason – different preferences – the pattern is written needle-neutrally. Do you like dpns? One circular with magic loop? Or with travelling loop? Two circulars? One short circular? Flexi flips? Some other method I haven't even come across? Don't worry – just choose your favorite method and relax. The pattern will work!
Aus dem gleichen Grund – unterschiedliche Vorlieben – ist die Anleitung nadelneutral geschrieben. Magst Du das Nadelspiel? Eine Rundnadel mit Magic Loop? Travelling Loop? Zwei Rundnadeln? Eine kurze Rundnadeln? Trionadeln? Irgendeine Methode, die ich noch gar nicht kenne? Keine Sorge – nimm Deine Lieblingsmethode und entspann Dich. Die Anleitung wird funktionieren!
As everyone's feet are different and I want your socks to fit perfectly, I've included a short-row heel as well as a heel with a heelflap and gusset for both the toe up and the cuff down socks! If you already have a favorite heel you always use, you can easily substitute that.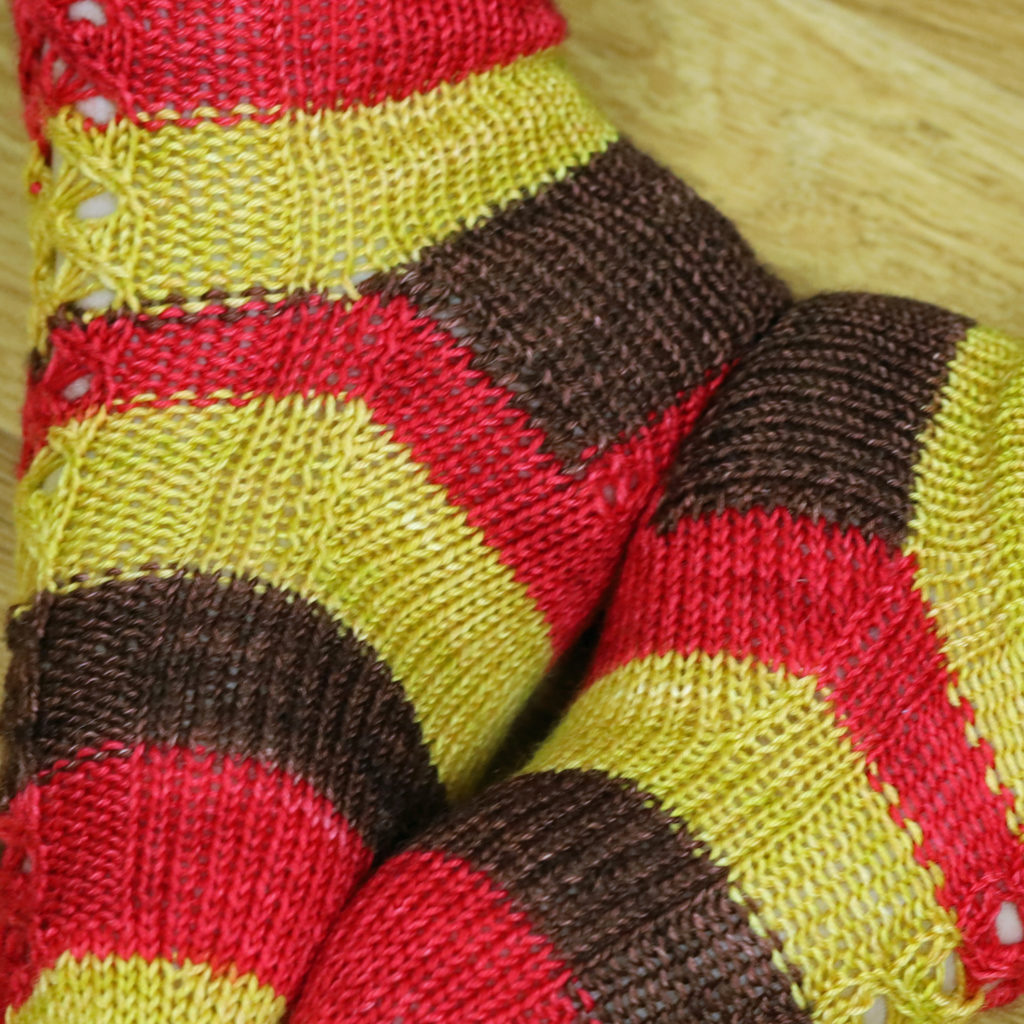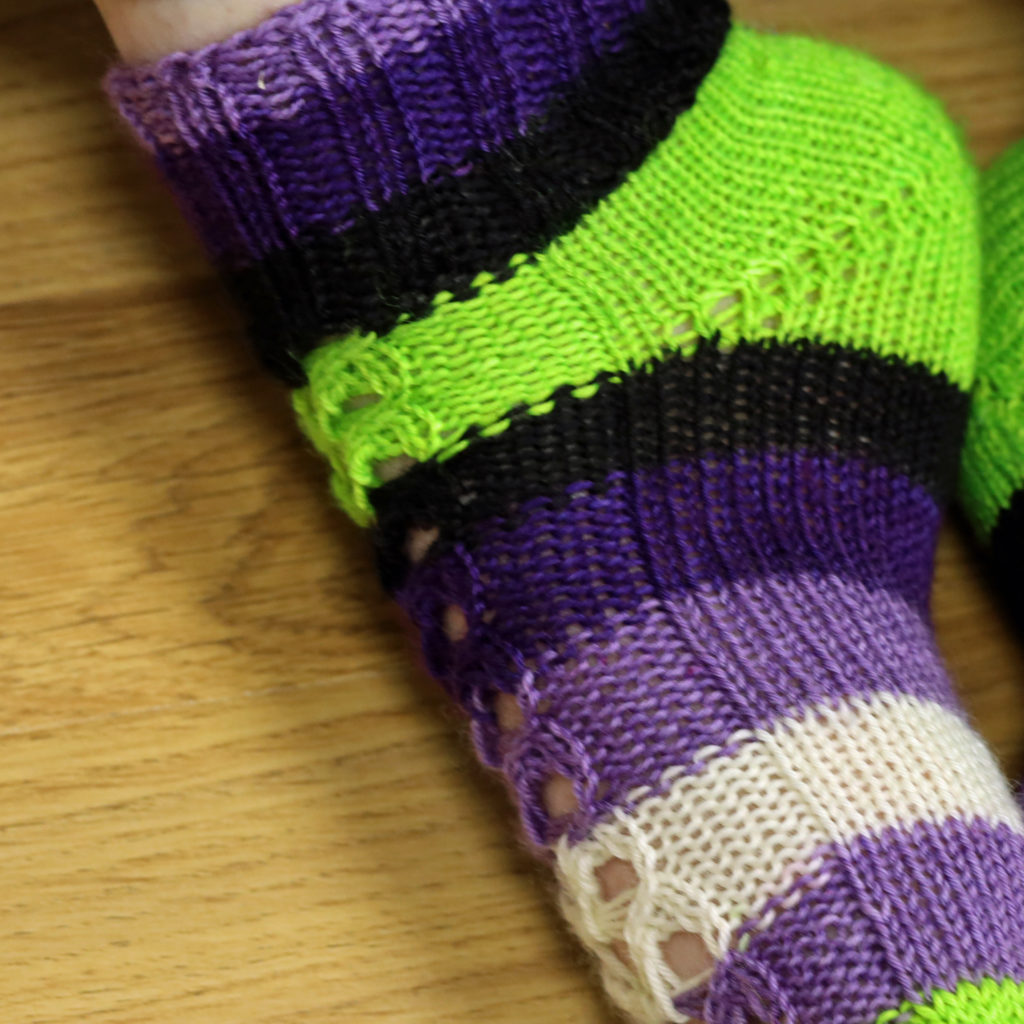 Da wir alle unterschiedliche Füsse haben und ich möchte, dass Dir die Socken perfekt passen, habe beinhaltet die Anleitung sowohl eine Bumerangferse als auch eine Ferse mit Fersenwand und Zwickel, sowohl für die Toe Up als auch für die Cuff Down Variante. Wenn Du schon eine Lieblingsferse hast, die Du immer strickst, kannst Du einfach die stricken.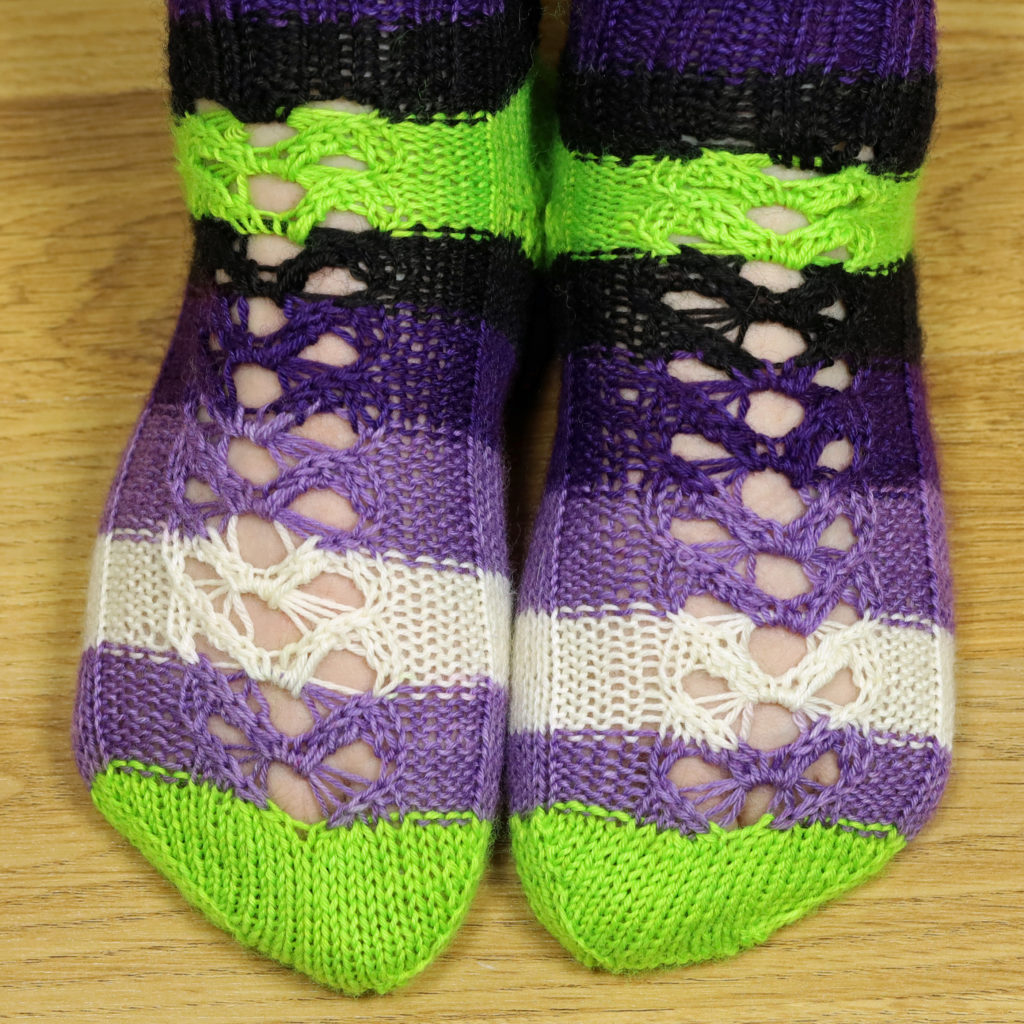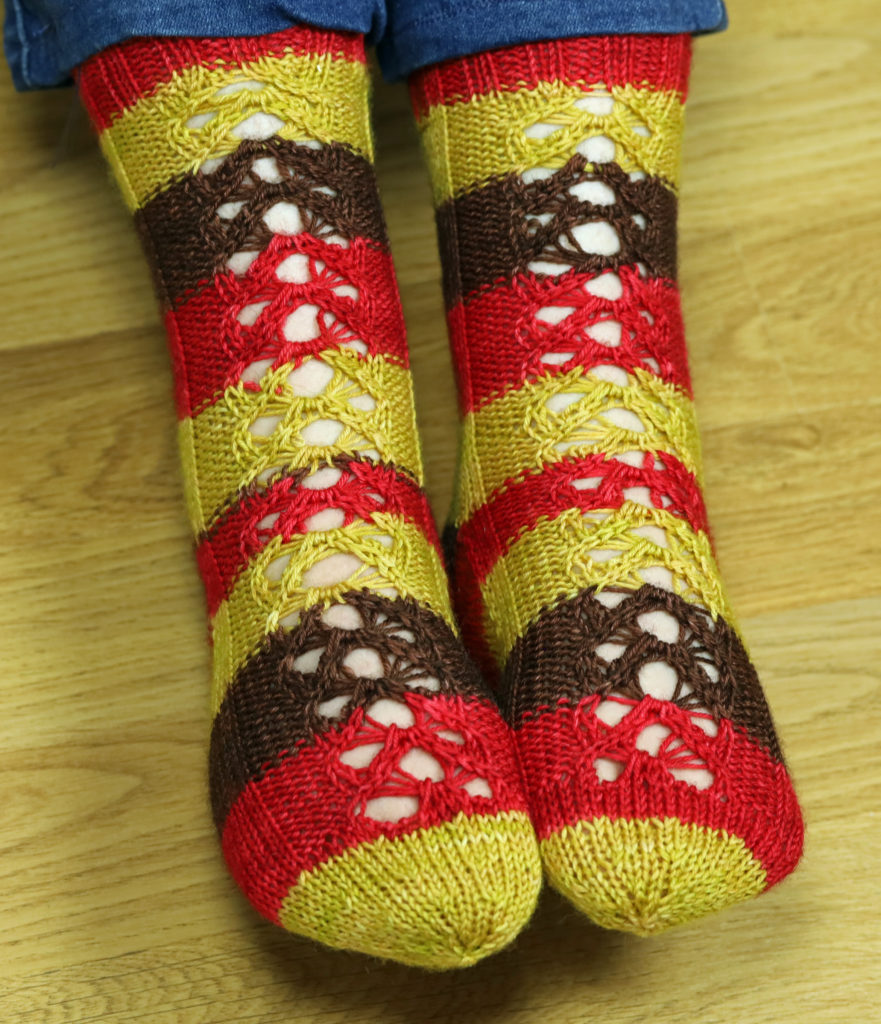 There are also two toes included – choose the one that better fits your toes, the one that looks better to you or base your decision on whether you love or hate Kitchener stitch – the possibilities are all there!
Die Anleitung beinhaltet auch zwei Spitzen – wähle die, die besser zu Deinen Zehen passt, die Dir besser gefällt oder entscheide danach, ob Du Maschenstich magst oder nicht – alle Möglichkeiten stehen Dir offen!
You also get the pattern in English and German and I'll tell you why in German because you're probably less interested in that when you don't speak the language 🙂
Die meisten von uns stricken wohl, um uns zu entspannen – nach einem langen Arbeitstag, wenn die Kinder im Bett sind. Vielleicht bist Du nicht so sicher in Englisch, oder Du brauchst es den ganzen Tag bei der Arbeit und möchtest abends endlich abschalten – darum biete ich alle meine Anleitungen auch auf Deutsch an.
Add to that the 10 sizes that we talked about the other day and I think you get everything you could wish for… or let me know in the comments what more you'd like ❤️

Zusätzlich gibt es noch die 10 Grössen, über die wir neulich geredet haben und ich denke, es bleiben keine Wünsche offen… oder schreib mir in die Kommentare, was Du noch gern hättest ❤️
Tomorrow is finally the day when the socks go live, and I'll tell you all about the tutorials included with the pattern and I'll also have a special introductory deal for you! Do you want an even better deal? Sign up for my newsletter now for the best introductory discount and get the pattern for my Laerdal hat for free! Sign up here!

Morgen wird die Anleitung endlich veröffentlicht und ich werde Dir alles über die Tutorials erzählen, die zu der Anleitung gehören und ich werde einen speziellen Einführungsrabatt für Dich haben! Willst Du noch einen besseren Deal? Melde Dich jetzt für meinen Newsletter an und Du bekommst den besten Einführungsrabatt und die Anleitung für meine Laerdalmütze gratis! Meld Dich hier an!