When the Nightowl Socks were published in Knotions Magazine a few years ago, we chose a unicolored blue yarn for the sample, which looks really gorgeous. But when making new samples for the updated pattern in my stores, I wanted to try something different. I've always been obsessed with the self-striping yarns from Caitlin at String Theory Colorworks. The colors are amazing, the stripes are so clean and the scientific background of the colorway names really speaks to my nerdy side. It seems like another life now, but before moving to Switzerland I studied Chemistry at university.

Als meine Nightowl Socken vor einigen Jahren im Knotions Magazine erschienen sind, haben wir ein einfarbig blaues Garn für das Muster ausgewählt, das wirklich toll aussieht. Aber als ich neue Mustersocken für die überarbeitete Fassung in meinen Shops gestrickt habe, wollte ich etwas anderes ausprobieren. Ich liebe schon ewig die Streifengarne von Caitlin von String Theory Colorworks. Die Farben sind wunderschön, die Streifen sind so klar abgegrenzt und der wissenschaftliche Hintergrund der Farbnamen gefällt der nerdigen Seite von mir besonders gut. Es fühlt sich inzwischen an, als wäre es in einem anderen Leben gewesen, aber bevor ich in die Schweiz gezogen bin, habe ich Chemie studiert.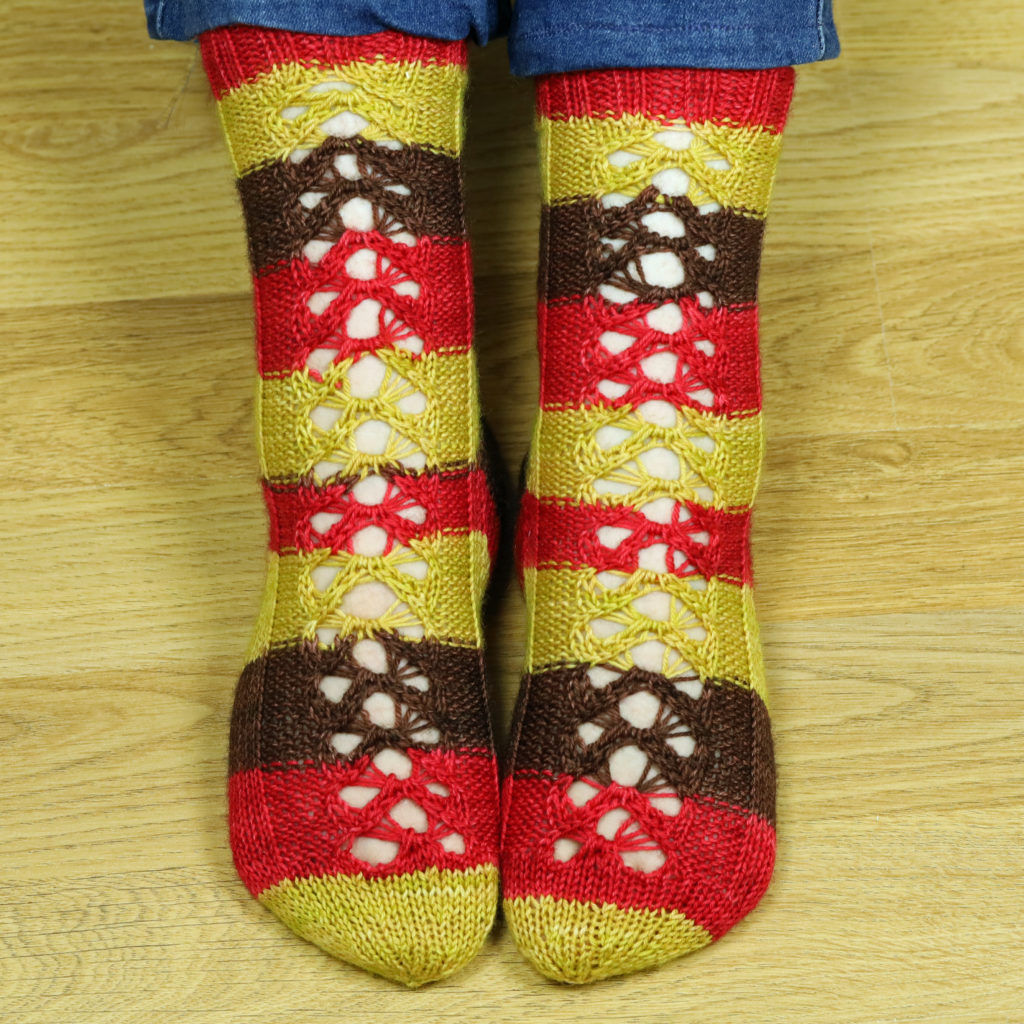 I made three more pairs to try out all the options included in the pattern (toe up, cuff down, heart-shaped heel turn with heel flap and gusset, short-row heel, star toe and basic rounded toe – I'll talk about all these possibilities on another day) and they all turned out gorgeous – if I do say so myself.

Ich habe drei weitere Paare gestrickt, um alle Variationen auszuprobieren, die in der Anleitung enthalten sind (Toe Up, Cuff down, Herzchenferse mit Fersenwand und Zwickel, Bumerangferse, Sternchenspitze und Abgerundete Grundspitze – über all die Möglichkeiten sprechen wir ein anderes Mal) und sie sind alle toll geworden – wenn ich das selbst so sagen darf.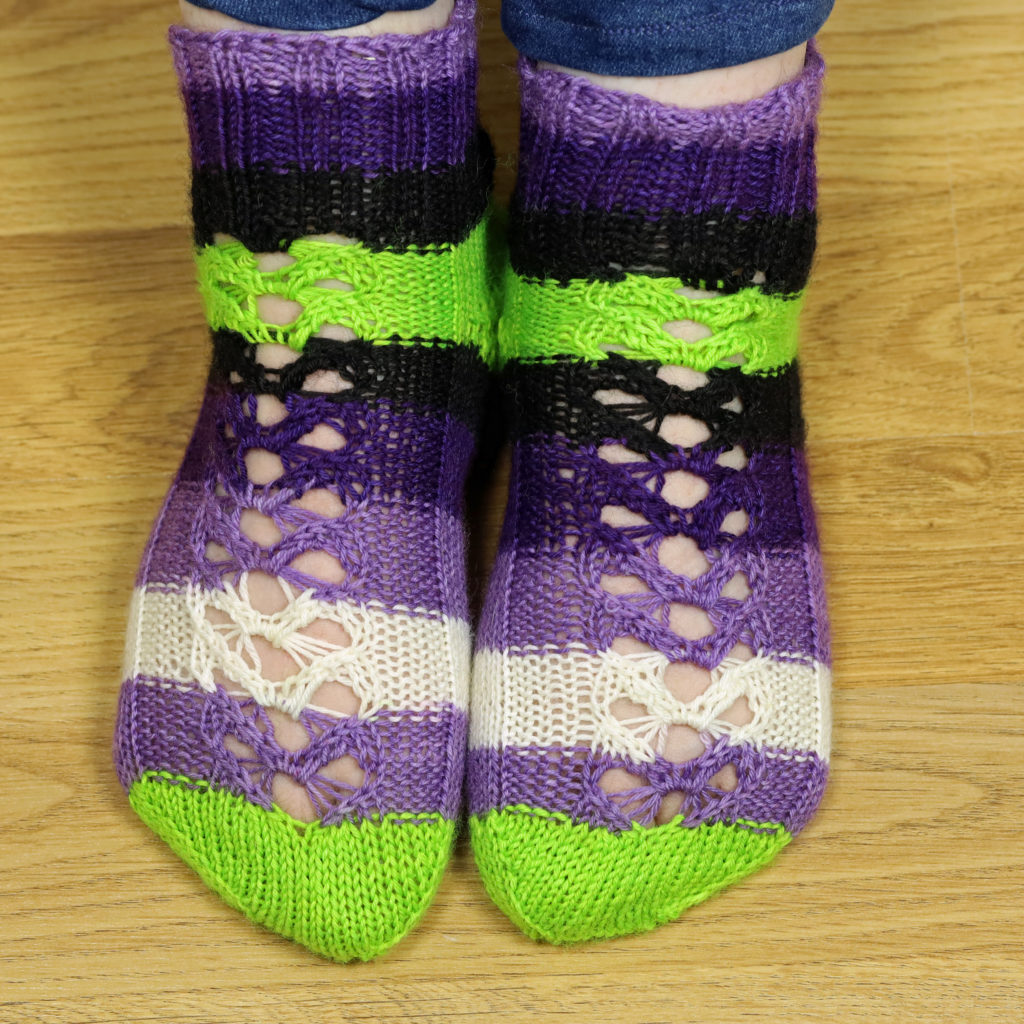 This pair has been made in Void with a matching Heel/toe skein in Radical. We do not celebrate Halloween in Switzerland, but if we did, I'd wear these socks this year!

Dieses Paar ist aus Void mit einem Fersen/Spitzen-Knäuel in Radical. Wir feiern in der Schweiz kein Halloween, aber wenn, würde ich dieses Jahr diese Socken anziehen!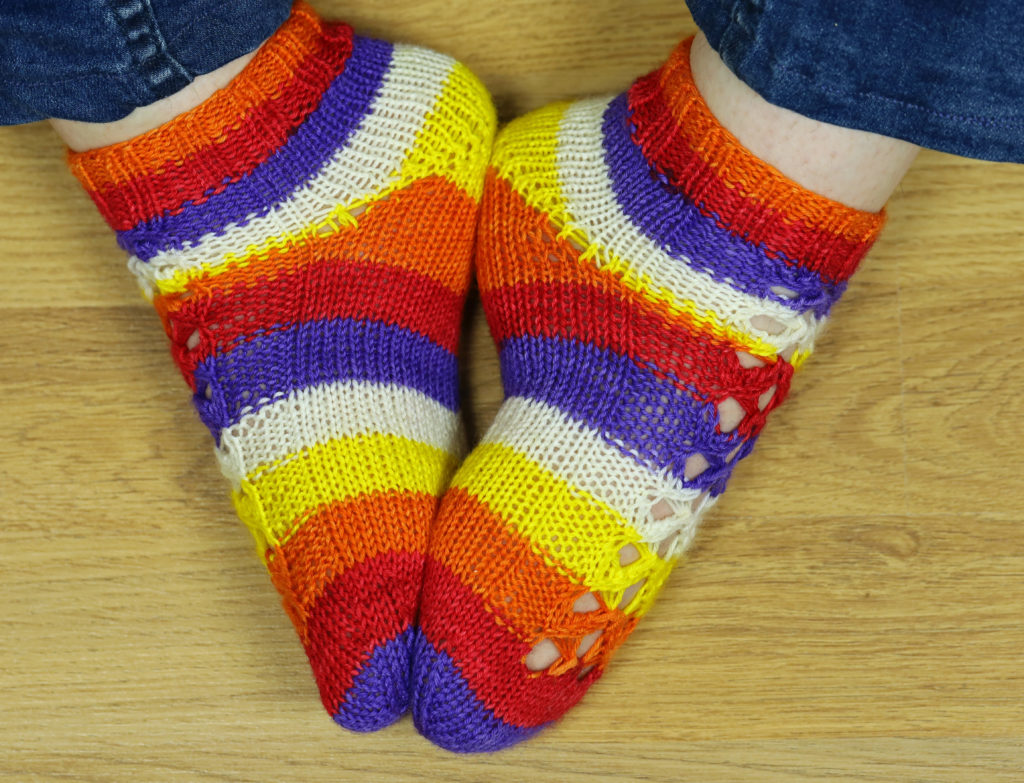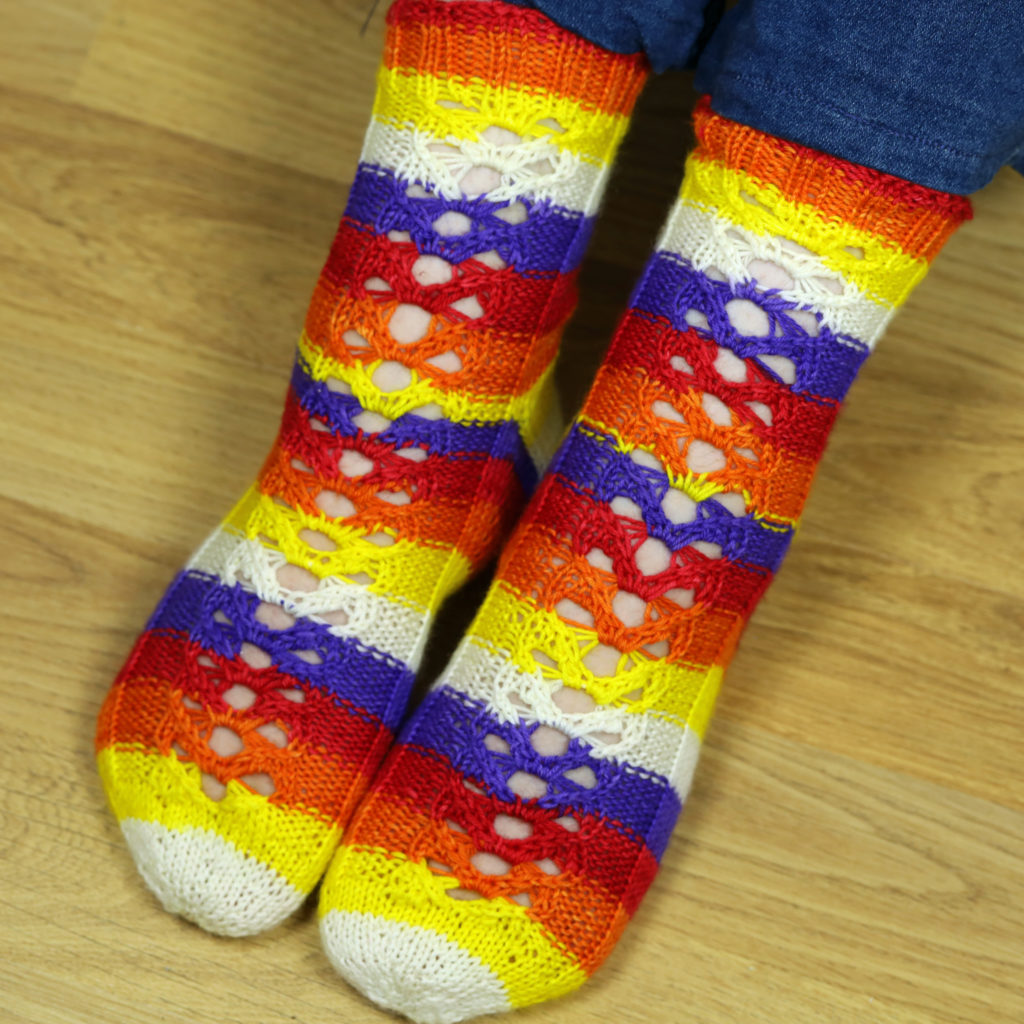 Spectral Lines has all the colors I adore, so I needed two pairs from it – one of the few benefits of having tiny feet 🙂
So, if I were you, I'd hop over to Caitlins shop and fill my stash with her gorgeous yarns.

Spectral Lines hat alle Farben, die ich liebe, deshalb habe ich zwei Paar daraus gemacht – einer der wenigen Vorteile von winzigen Füssen 🙂
Wenn ich Du wäre, würde ich also Caitlins Shop besuchen und einen Vorrat ihrer wunderschönen Garne anlegen.

If you want to sub a different yarn, any 4-ply sock yarn will work, especially if it's uni-colored, heathered or self-striping. As the pattern is made from big holes and gathered strands, you could even try a variegated yarn and see if you like the look. What yarn are you going to use? Have you decided on a color yet? Let me know in the comments!
Wenn Du lieber ein anderes Garn benutzen möchtest, kannst Du jedes Garn in Sockenwollstärke nehmen, besonders einfarbiges, meliertes oder Streifengarn. Da das Muster aus grossen Löchern und zusammengefassten Fäden besteht, könntest Du auch ein buntes Garn nehmen und schauen, ob es Dir gefällt. Welches Garn wirst Du für Deine Socken nehmen? Hast Du Dich schon für eine Farbe entschieden? Schreib es mir in die Kommentare!