If your yarn stash looks anything like mine, you will have way too many beautiful, crazy colorful sock yarns. And there's absolutely nothing wrong with that – except for one thing. Knitting miles and miles of stockinette drives me crazy, and really – how many pairs of vanilla socks does one person need? Still it's so hard to find good patterns that are interesting to knit and work with these variegated yarns. So I've decided that this is the year to change that!
Wenn Dein Wollvorrat so ist wie meiner, dann hast Du viel zu viele wunderschöne, kunterbunte Sockengarne. Und daran ist überhaupt nichts falsch – bis auf eine Sache. Kilometerweise Glatt Rechts zu stricken, macht mich wahnsinnig und mal ehrlich – wie viele Paare Stinos braucht man wirklich? Aber es ist gar nicht so einfach, Muster zu finden, die interessant zu stricken sind und gut mit bunten Garnen funktionieren. Und dieses Jahr werde ich das ändern!
Over in the Giftalong After Party group on Ravelry, we have a challenge this year to knit socks and my (only slightly crazy…) plan is to knit and donate 52 pairs of socks this year and to design 12 pairs of them myself and publish the patterns.
In der Giftalong After Party Gruppe auf Ravelry haben wir dieses Jahr eine Sockenchallenge und mein (nur ein ganz bisschen verrückter…) Plan ist es, 52 Paar Socken zu stricken und zu spenden und für 12 Paar davon Anleitungen zu veröffentlichen.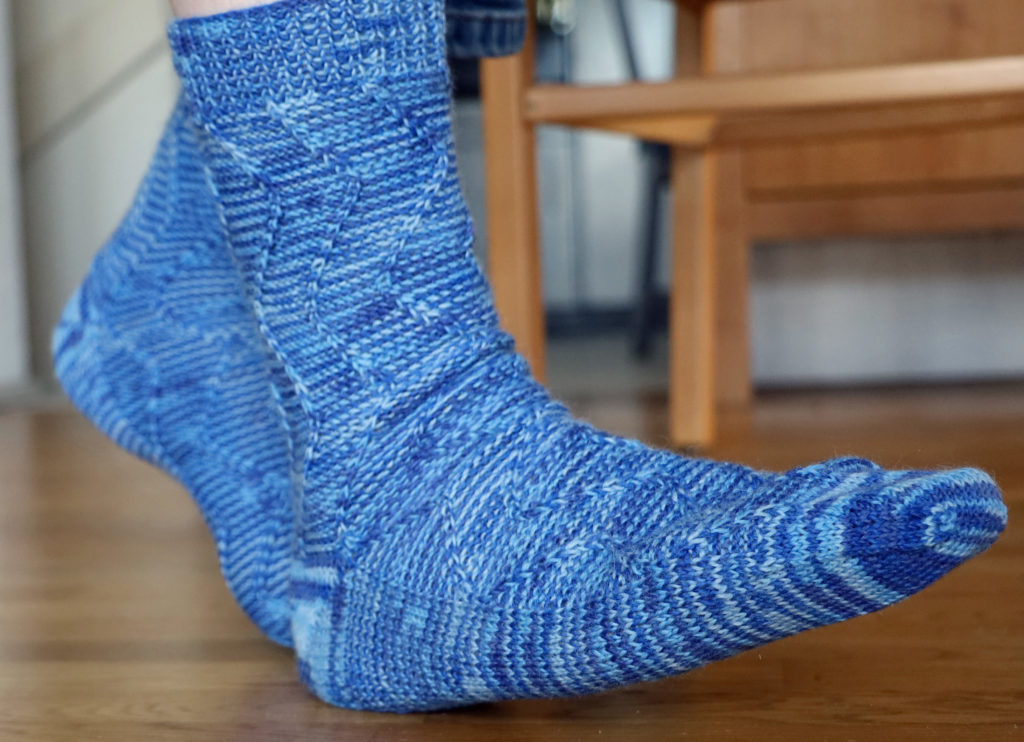 Lifelines socks feature a pretty cable on a purl background that reminded me of a lifeline. It is easy to work, you'll know the pattern by heart in no time and even if you have to put your work down frequently because life has other plans than you knitting comfortably, you will always see where you left off. Still there is always something going on with the pattern to keep you engaged. Best of all worlds, isn't it?
Lifelines Socken haben ein hübsches Zöpfchen auf einem Glatt Links Hintergrund, das mich an Lebenslinien erinnert. Es ist einfach zu arbeiten, Du kannst das Muster in Nullkommanichts auswendig und auch, wenn Du Deine Arbeit oft unterbrechen musst, weil das Leben andere Pläne mit Dir hat, als gemütlich auf dem Sofa zu stricken, wirst Du immer sehen, wo Du aufgehört hast. Trotzdem ist imer etwas los und das Muster hält Dich bei der Stange. Das beste aus allen Welten, oder?
Lifeline socks come in 5 sizes from kids to adult. They are worked from the cuff down with a short-row heel and a paired decreases toe, but you can easily substitute your favorite heel and toe if you prefer.
Die Anleitung für die Lifeline Socken hat 5 Grössen von Kind bis Erwachsener. Sie werden vom Bündchen zur Spitze gearbeitet mit einer Bumerangferse und einer Bandspitze. Du kannst stattdessen Deine Lieblingsferse und -spitze stricken.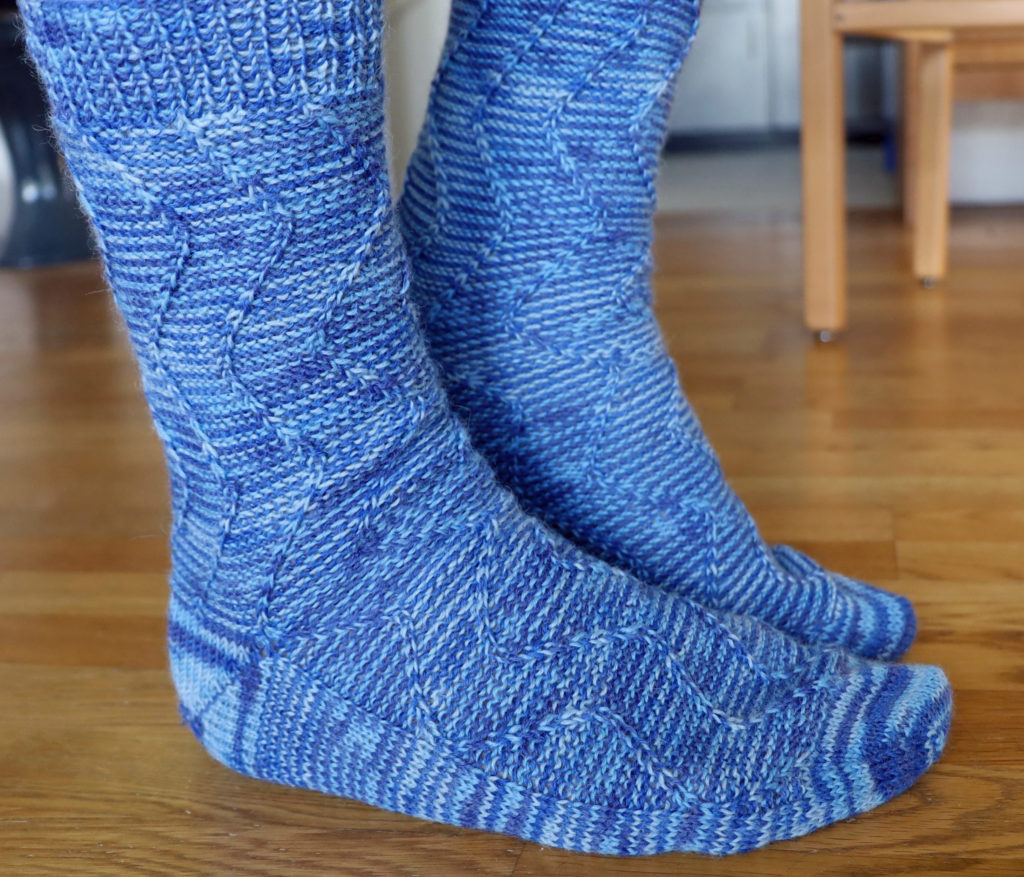 You can get them for 25 % off with the coupon code Lifelines until March 6th, end of day on Ravelry and Payhip!
Du bekommst die Anleitung mit 25 % Rabatt mit dem Couponcode LIfelines bis zum 6. März, Ende des Tages bei Ravelry und Payhip!