Socks are the perfect travel project – they are portable, fun to knit, require just one (or two) small balls of yarn and with this pattern, they are extremely easy to put down and pick up and still get two identical socks without having to bother with TAAT. I've knit countless of these socks in planes, cars, hotel rooms, waiting rooms or in front of the TV and I hope you will like them as much as I do. I've included a knee-high and a mid-calf version so you can make the most of the yarn (and time) you have.
Socken sind das perfekte Reiseprojekt – man kann sie gut mitnehmen, sie machen Spass, es braucht nur ein (oder zwei) kleine Knäuel Wolle und mit dieser Anleitung kann man sie ganz leicht jederzeit zur Seite legen und bekommt trotzdem zwei identische Socken, ohne sich mit zwei Socken gleichzeitig abmühen zu müssen. Ich habe zahllose dieser Socken gestrickt – in Flugzeugen, Autos, Hotelzimmern, Wartezimmer oder vor dem Fernseher – und ich hoffe, Du magst sie genauso gern wie ich. Ich habe eine kniehohe und eine halbhohe Version geschrieben, so dass Du das meiste aus Deinem Garn (und Deiner Zeit) machen kannst.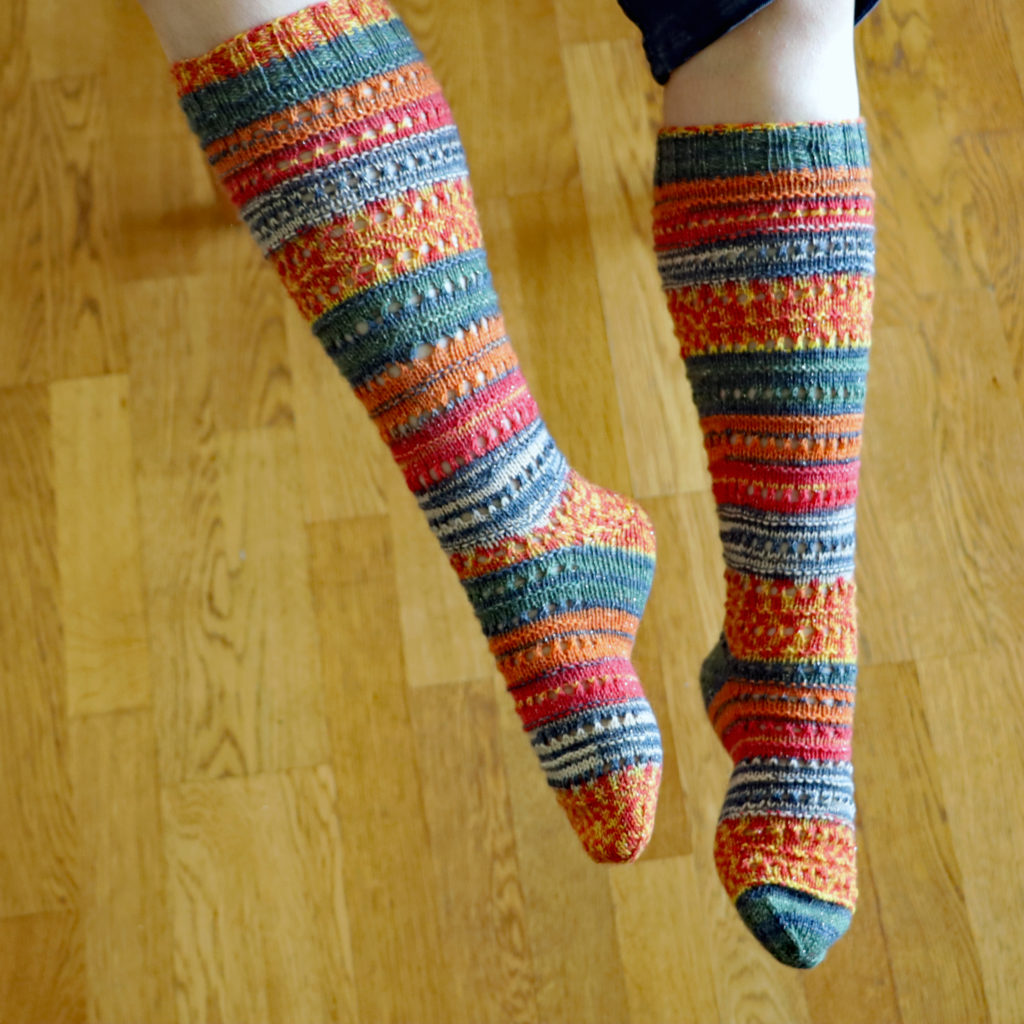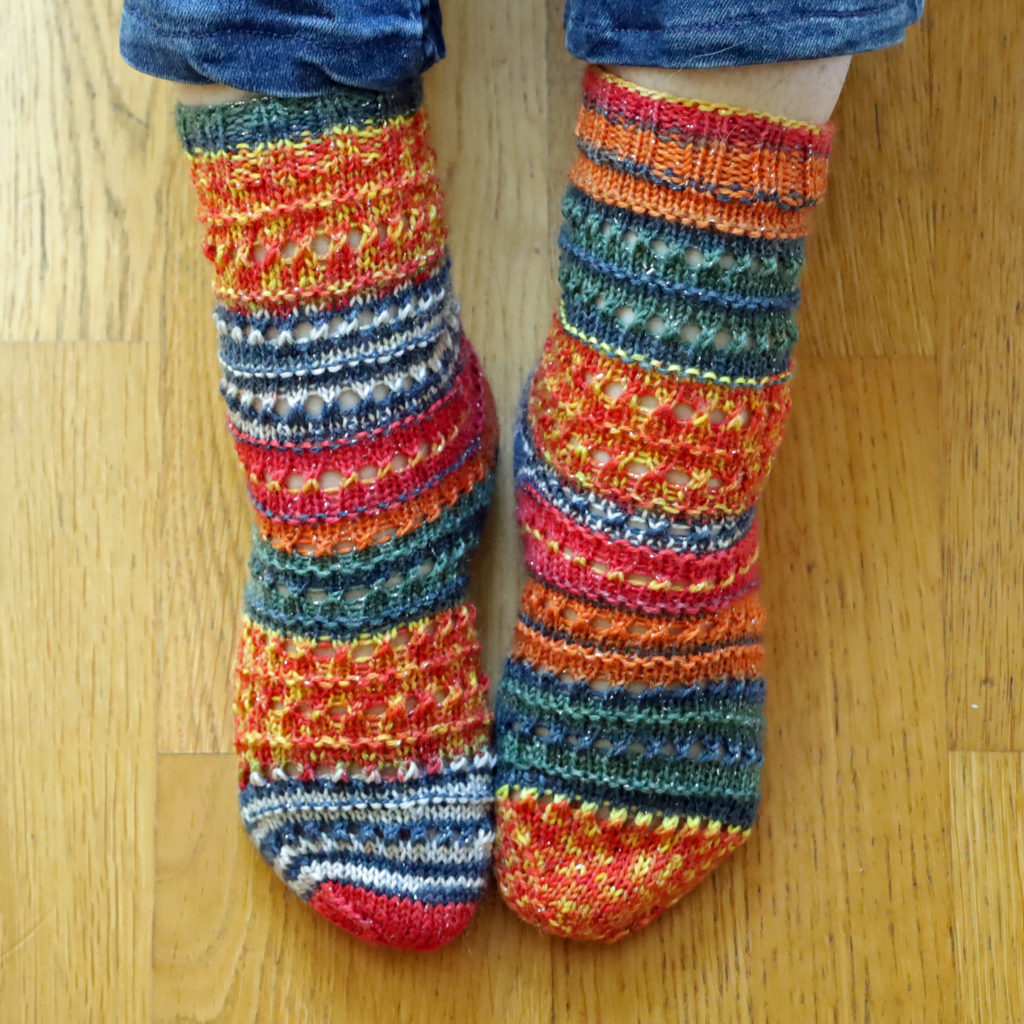 It is very easy to make these socks your own! Most obviously, choose the ribbing, heel and toe
you like best. You can also adjust the pattern.Work only the purl rounds for the pattern, or only the k2tog, yo
rounds.
Or work 5 rounds in Stockinette stitch and 5 rounds in another simple stitch you like.
You can also play around with the numbers. For a mid-calf sock I often work 48 or 52 rnds in the leg and have then worked 11 or 12 rounds in Stockinette and then a pattern round. Finishing the fourth pattern round told me that I've reached my desired leg length.
Es ist ganz einfach, diese Socken zu Deinen eigenen zu machen! Ganz offensichtlich, strick das Bündchenmuster, die Ferse und die Spitze, die Du am liebsten magst.
Du kannst auch das Muster anpassen. Strick zum Beispiel nur die Linksrunden oder nur die Lochrunden. Oder strick 5 Runden in Glatt Rechts und 5 Runden in einem anderen einfachen Muster, das Du magst.
Du kannst auch mit den Zahlen spielen. Für eine halbhohe Socke stricke ich oft 48 oder 52 Runden im Bein und arbeite dann 11 oder 12 Runden Glatt Rechts und eine Musterrunde. Nach der 4. Musterrunde weiss ich dann, dass mein Bein fertig ist.
To adjust the leg length of the knee-high without having to redesign the shaping, you can make the ribbing and the straight rounds before the heel longer or shorter. 4 rounds will add or subtract about 1 cm (0.5 inches).
Um die Beinlänge der Kniesocken zu ändern ohne die Abnahmerunden neu zu berechnen kannst Du das Bündchen oder die Runden vor der Ferse länger oder kürzer stricken. 4 Runden machen das Bein ca. 1 cm länger oder kürzer.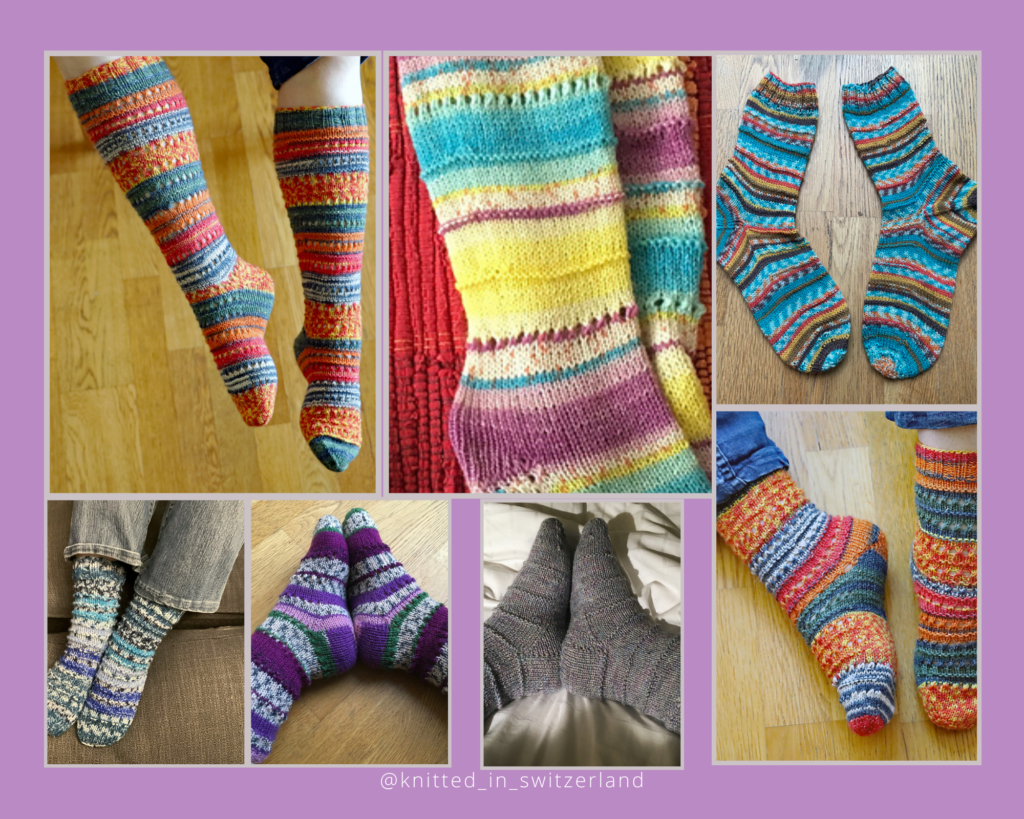 Until June 5th, end of day (Switzerland time), if you buy Perfect Travel Socks on Ravelry, you can get a second pattern of your choice with a 3.25 $ discount – no coupon code needed. And as always, if you put three patterns in your cart, the least expensive one will be free – valid forever and also no coupon code needed 🙂

Bis zum 5. Juni, Ende des Tages, bekommst Du auf Ravelry, wenn Du die Perfect Travel Socks bei Ravelry kaufst, eine zweite Anleitung mit 3.25 $ Rabatt – es ist kein Couponcode nötig! Und wie immer, wenn Du drei Anleitungen in Deinen Einkaufswagen legst, ist die günstigste gratis – das gilt immer und es ist ebenfalls kein Couponcode nötig.