What do you see? What do you know? One sign, what do I do?
Just follow your lifeline through
What if it hurts? What then? What do we do?
What do you say?
Don't throw your lifelines away
(Magne Furuholmen, Lifelines)
Whatever I am doing, there is usually music playing – and about 95 % of the time it is a-ha or their solo work. That's how it has been since 1991, and that is how it will stay forever. So it's no surprise that they inspire a lot of my designs, like this hat (and its sister pattern the Lifelines Socks).
Egal, was ich mache, normalerweise läuft dabei Musik – und zu 95 % ist es Musik von a-ha oder ihre Soloarbeiten. So ist es seit 1991 und so wird es immer bleiben. Deshalb ist es wohl keine Überraschung, dass sie so viele meiner Designs inspirieren, wie diese Mütze (und ihre Schwesteranleitung, die Lifelines Socken).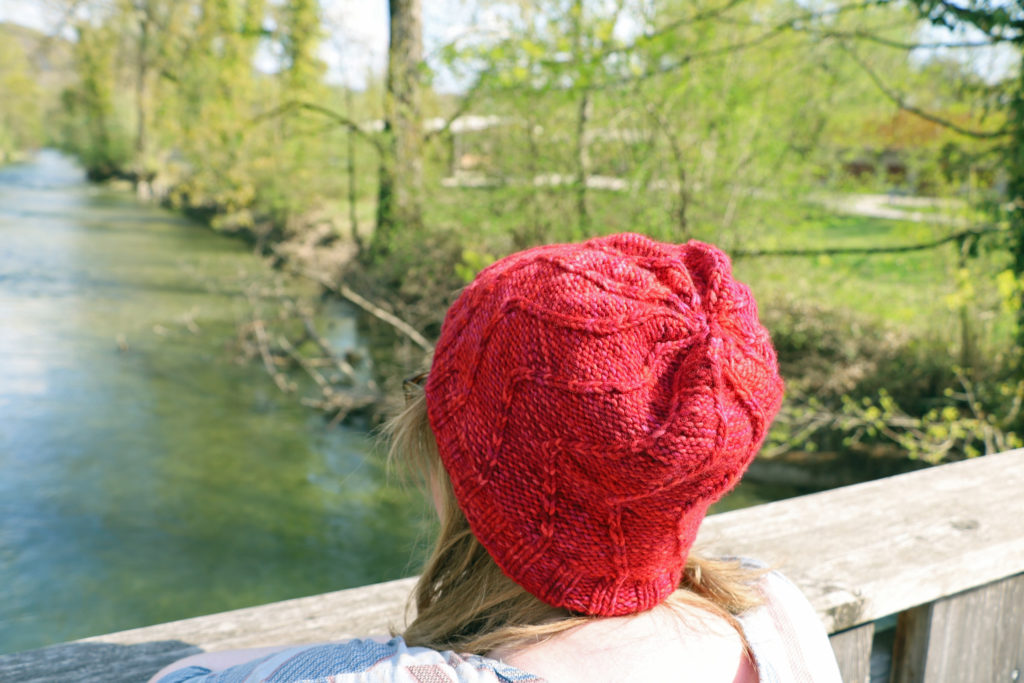 Lifelines Hat, the sister pattern to the Lifelines Socks (of course also available on Ravelry, Payhip and Lovecrafts) features a pretty cable on a purl background that reminded me of a lifeline and is now available on Ravelry, Payhip and soon Lovecrafts.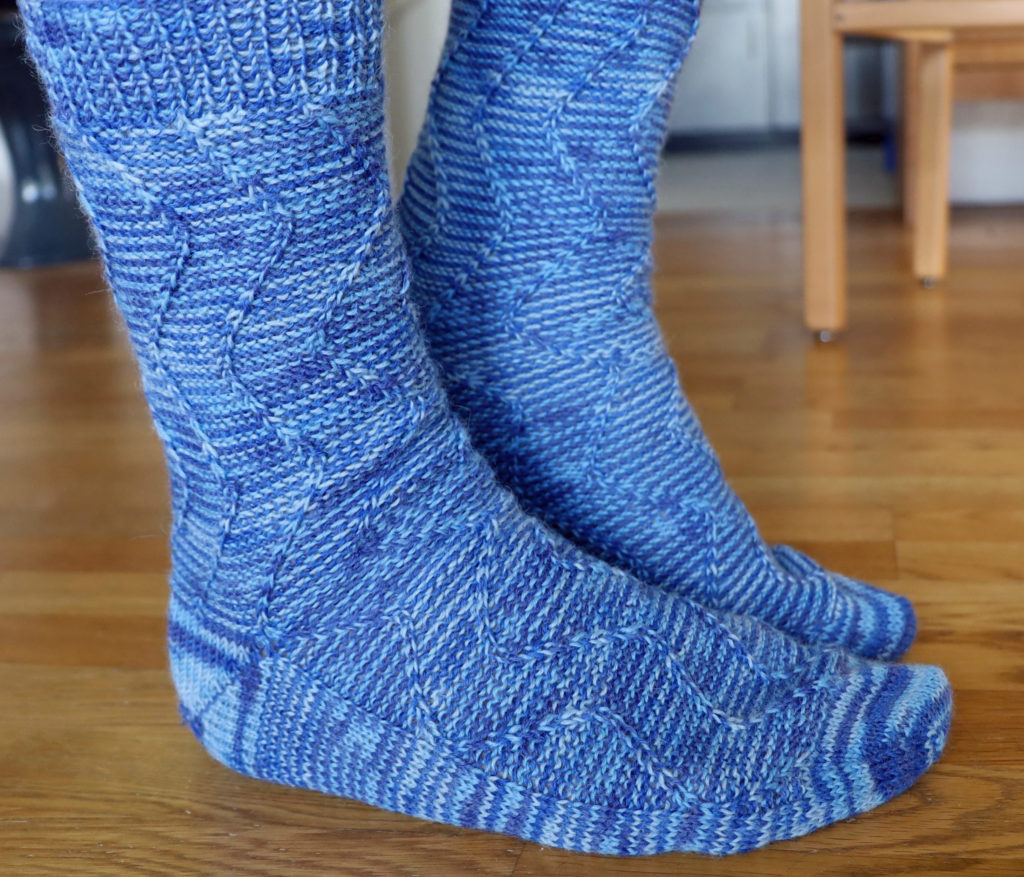 It is easy to work, you'll kow the pattern by heart in no time and even if you have to put your work down frequently because life has other plans than you knitting comfortably, you will always see where you left off.
Die Lifelinesmütze ist einfach zu arbeiten, Du wirst das Muster in Nullkommanichts auswendig können und auch, wenn Du Deine Arbeit oft zur Seite legen musst, weil das Leben andere Pläne mit Dir hat, als bequem auf dem Sofa zu stricken, wirst Du immer sehen, wo Du aufgehört hast.
Still there is always something going on with the pattern to keep you engaged.
Best of all worlds, isn't it?
Trotzdem ist immer etwas los und das Muster hält Dich bei der Stange.
Das beste aus allen Welten, oder?
Lifeline Hat comes in 4 sizes from toddler to adult. It is worked from the bottom up in rounds.
I have designed this hat because it looks great in the super pretty, crazy colorful yarns that are so hard to find patterns for when miles and miles of stockinette just drive you crazy.
Die Lifelinesmütze gibt es in vier Grössen von Kleinkind bis Erwachsener. Sie wird von unten nach oben in Runden gearbeitet. Ich habe sie designt, weil sie toll aussieht in den hübschen, bunten Garnen, für die man so schwierig Anleitungen findet, wenn kilometerweise Glatt Rechts einen wahnsinnig macht.
The sample is shown in the gorgeous Malabrigo Worsted, colorway Amoroso 🙂 One skein is enough for the three smaller sizes. For the biggest size you may want to have a second skein available – just in case (I don't think an extra skein of Malabrigo Worsted has ever hurt anyone, right?)
Meine Mütze ist aus wunderschönem Malabrigo Worsted, Farbe Amoroso 🙂 Ein Strang ist genug für die kleineren drei Grössen. Für die grösste Grösse schadet es nicht, sicherheitshalber einen zweiten Strang zu haben – nur für den Fall. (Ich glaube nicht, dass ein Extraknäuel Malabrigo Worsted schonmal jemandem weh getan hat, oder?)
Another thing everyone loves is a good looking hat crown, so I've created four crown charts for this hat. That way you always get a perfect crown, no matter at which of the stopping points in the pattern you want to stop.
Was auch jeder liebt ist eine hübsche Mützenspitze, deshalb habe ich vier Spitzencharts für diese Mütze designt. So bekommst Du immer eine perfekte Spitze, egal an welchem der Stoppunkte Du aufhören möchtest.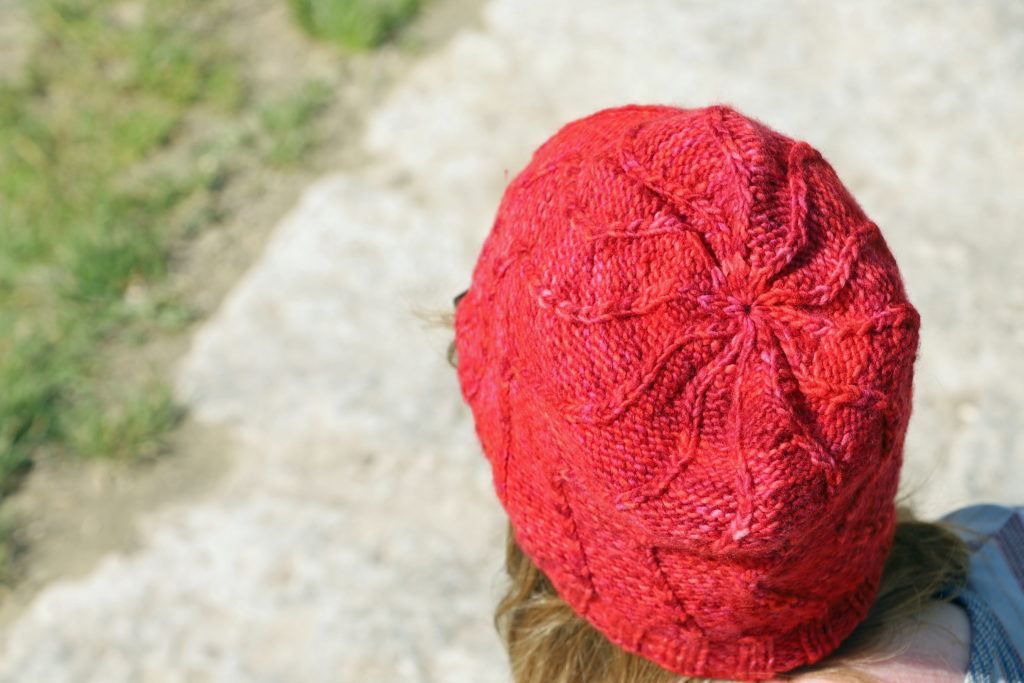 The pattern is available at an introductory discount until April 20th, end of day (Switzerland time) on Ravelry and Payhip – just use the coupon code Lifelines25 for 25 % off.
Es gibt die Anleitung bis zum 20. April, Ende des Tages mit einem Einführungsrabatt auf Ravelry und Payhip – nimm einfach den Couponcode Lifelines25 für 25 % Rabatt.